**ONLINE REGISTRATION IS NOW CLOSED, BUT YOU CAN STILL REGISTER IN PERSON ON SATURDAY FROM 8:00AM - 9:30AM AT TERRA PARK. COME ON OUT AND JOIN US FOR A BEAUTIFUL MORNING!**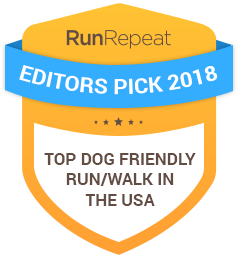 The Iowa Dog Jog is a 4K and 2K run/walk (heck, you can even dance your way along the route) that has been created for dog-lovers and their favorite 4-legged friends!
The Iowa Dog Jog has received an Editors Pick Award for 2018 as a 'Top Dog Friendly Run/Walk in the USA' by RunRepeat.com.

PARTICIPATE
People and pups - don't miss this one. At the Iowa Dog Jog, you'll strengthen your bond and probably also make some new friends along the way! Pick your choice of 2K or 4K, and then enjoy a rockin' dog festival full of fun activities for you and your dog, such as paw-print painting, off-leash dog parks, visit with great vendors and rescue groups, dog contests (including a whip cream eating contest...for your dog, not you) and so much more.

SUPPORT
The Animal Rescue League of Iowa helps thousands of pets and people every year, and it's only possible because of supporters like you. This year we've made it even easier to help homeless pets by allowing you to set-up your personal fundraising page when you register for the event. Even if you can't participate in the Iowa Dog Jog, you can still help us with fundraising to support our mission! For each fundraising milestone you hit, you'll be rewarded with the appropriate badge as shown below AND the more you raise, the more cool prizes you can earn!
While fundraising is not required to participate in the Dog Jog, there are lots of cool prizes if you do, and every dollar raised helps.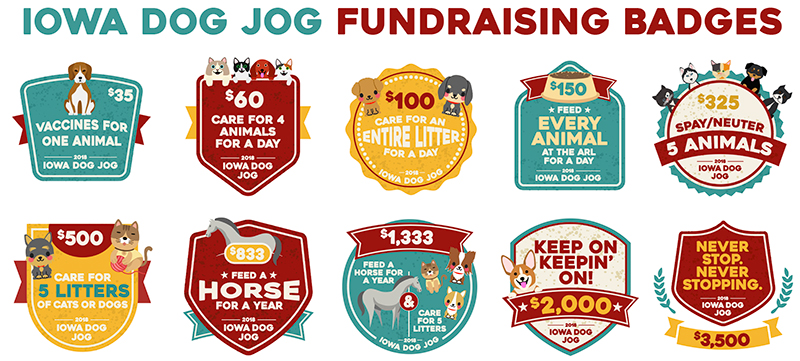 FUNDRAISING PRIZE LEVELS
$35 is enough to provide incoming vaccinations for one animal, and you've earned a Tito's dog toy!
$60 is enough to provide care to four animals for a day. At this level, you'll earn a Tito's leash in addition to the Tito's toy.
$150 is enough to feed all the animals at the shelter for a day. At this level, you'll earn a Benebone dog chew, a Tito's leash, and the Tito's toy.
$225 at this level, we'll throw in a Tito's dog bowl, in addition to the leash, Benebone, and Tito's dog toy.
$325 is enough to spay/neuter 5 animals. When you reach this milestone, you receive a $25 gift card to the Animal Rescue League good for adoption fees, Animal House products, or training classes. AND you still receive the Tito's dog leash and toy!
$500 is enough to care for 5 litters! At this milestone, you'll also earn a free ARL dog training class, "Hero" medal, and Tito's items.
$833 is enough to feed one horse for a whole year! At this level, you've earned an ARL Dog Park Party, a "Hero" medal, and the Tito's leash and dog toy!
$1,333 will feed a horse for a year, AND care for an entire litter! At this level, you'll receive an auditorium rental where you can throw a party to celebrate your fundraising accomplishments. You'll also receive the "Hero" medal and Tito's items.
$2,000 is enough to – let's be honest – care for a lot of animals! That's almost 3 horses for a year, or 133 animals for a day, or 20 litters. The numbers are huge! At this milestone, you'll earn a Fit Bit, "Hero" medal, and the Tito's items.
$3,500 is our top tier! Raise this much and you'll receive an Apple iWatch, "Hero" medal and Tito's items! You'll also know you're among the top fundraisers supporting the homeless pets at the ARL.
If you're participating as a team, we have a few more fundraising levels!
If your team raises $5,000, it's calendars all around! Everyone on your team will receive a copy of ARL's 2019 Happy Tails calendar!
If your team raises $10,000, you've earned a dog party! The ARL will bring adoptable dogs to your home or business for an hour of cuddles and playtime!
If your team raises $15,000, you'll get a team celebration in Mapes Auditorium at the ARL! We'll give you a gift certificate to get pizza and snacks, and we'll supply cats or dogs for your party's attendees to play with!
If your team raises $20,000, you receive a dog park party! Invite your friends (and their dogs), and we'll supply the pizza and snacks! It'll be a fun and memorable way to celebrate all you've done for the homeless pets.
At the race, we'll also have a VIP tent with snacks, water, shade and chairs for any individual who raises $500 or more.