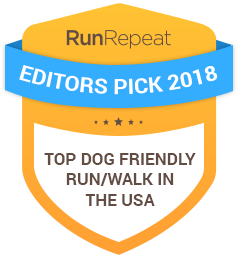 WALK + RUN + WAG TO MAKE AN IMPACT
Sunday, September 19 at ARL Main
The Iowa Dog Jog is Iowa's Biggest Dog Party where animal lovers like you can walk, run, or wag to celebrate all things dog and fundraise to help provide food, shelter, medical care, and much more to the over 10,000 pets who come to the Animal Rescue League of Iowa each year.
WHAT'S NEW:
THE LOCATION: What better way to show off our passion and our mission other than bringing the Iowa Dog Jog to the ARL! That's right, the Iowa Dog Jog will be on site at our Main Location and we're excited to show you recent improvements such as our new walking path!

THE ROUTE: One thing 2020 taught is that new CAN be fun! You can now choose your own route, new or old, and compete for prizes! You can also choose to take two half mile loops around the ARL's new walking path day of the event at your own pace to complete one mile.

ACTIVITY TRACKING: Although we won't be sharing the same start line, we can still share our passion for animals and why we walk, run, or wag through Strava which allows participants to track activity from the start line of their choosing. Simply download the app, create your profile, and join the ARL Iowa Dog Jog Club to see what other participants are logging, and have one more reason to run/walk with your dog!

FUNDRAISING: The fun doesn't start until the fundraising does - and there is a new look to the participant center making fundraising even easier including an improved mobile experience! The fundraising prizes now include an Iowa Dog Jog T-shirt. If you raise $50 by August 30, you are guaranteed an Iowa Dog Jog T-shirt and are on your way to earning even more awesome prizes!

THE T-SHIRT: Let's be honest, we all think our dogs deserve to have their face on a T-shirt and now that dream can be a reality! Enter your registered dog into the "Face of the Party" photo contest for a chance to have YOUR FIDO's face on this year's shirt!
Party by yourself, with your dog, with your team, or start a company team — the steps are all the same!
Step 1: Register as an Individual, Become a Team Captain, or Join a Team
Are you a Party Animal or more of a Cat Napper? Pick from seven different registration options!

Invite friends, family, or colleagues to help raise funds as a group. Track your progress and unlock team prizes!
Team captains can also earn additional items like ARL swag, gift cards, and more by completing challenges.


Ready for your first two challenges?
The first 5 captains to recruit teams of four, or more, will earn a FREE 1-hour rental at Bailey's Bark Park.

If your team raises $200 by August 18, you will receive a $50 Gift Card to the ARL's Animal House Store, premier parking day of the event, and a your choice of an ARL T-shirt!
Step 2: Set up your

Participant Center
Customize your profile and share your story of why this Fundraiser means so much to you. Your participant center has been upgraded for a better user experience and you can now add more than one photo!
Step 3: Start Fundraising and Earning Prizes
The Iowa Dog Jog was created for animal lovers like you who want to save the lives of homless pets by raising funds to help provide food, shelter and daily care. Along the way, you can save lives, earn prizes, and learn about all the pets you are helping!
VENDORS AND SPONSORS
As a vendor or sponsor, you will reach thousands of animal lovers and their canine companions who will come together for Iowa's Biggest Dog Party complete with dog-centric activities, fundraising prizes, a dog park and so much more! If you're interested in sponsorship opportunities or vendor booth packages, please contact
events@arl-iowa.org
.
Volunteering at events is another great way to support homeless pets in need. Volunteer opportunites may include, but are not limited to: registration, dog valet, set up/tear down, day of activities, and so much more! To learn more about the volunteer opportunities at Iowa Dog Jog, please email
events@arl-iowa.org
.
---
SEE WHO'S WALKING FOR PETS
---
FINE PRINT: We welcome friendly dogs of all sizes and breeds and their responsible owners. For the safety of your dog and others, female dogs should not be in heat and please check with your veterinarian to make sure your dog is up-to-date on all of its vaccinations. Dogs must be leashed and under control of their owner at all times. No retractable leashes, choke chains, or prong collars are allowed.
---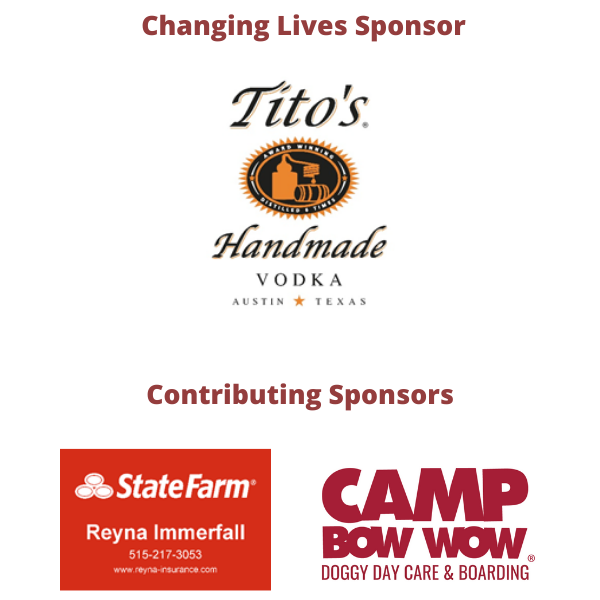 Donate:
Find a Participant or Team:
Participate:
Top Donors
Cash Money Millionaire
Anonymous
Lori Meyer
Deb R
Greg